myPAY ONLINE DJ-Classifieds
Rating: Not Rated Yet
MyPAY Payment Interface for DJ-Classifieds Advertising System.
Price
Sales price without tax
100,00 €
DPH 20%
MyPAY ONLINE Payment Interface - Payments via mobile for SMS payments in DJ-Classifieds 3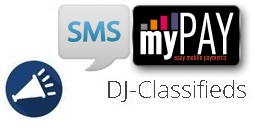 v.1.0
CMS Joomla 3
Service myPAY - Mobile payments iIntegrates SMS payments through mobile operators. It suffices if the advertisers in your advertising system built on DJ-Classifieds choose payment via SMS as a payment method and pay for highlighting an ad (SMS charging).
Plugin just install on Joomla 3, fill in the data received from A SMS, s.r.o., in the plugin administration and start using.
Plugin language versions: SK, GB
The payment plugin has an interface for automatic update from Joomla administration. In this way, we provide customers who have purchased this product in the future automatically and free of charge to update to the latest versions. This plugin is licensed GNU/GPL.
This version of the payment plugin supports payment authorization
Establishment and technical implementation of myPAY ONLINE
MyPAY is designed for so-called " "Non-mobile content," that is all goods and services that do not end up on a mobile phone. For example, you can pay for a highlight of advertising through the service. Plugin after entering the identifier and encryption key subsequently ready for active operation.
Price levels
When setting up service prices on your DJ-Classifieds Advertising Website, you need to realize that you have to set the final prices (the sum of the prices for your various advertising services) so that the resulting amount to be refunded matches one of the Values listed in the price level table. Current prices in the table of price levels (this spreadsheet only has an informative character) can be requested at A SMS, s.r.o. The price of the paid services can range from 0.10 to 20 € and (from 27 to 269 CZK for the Czech market). You can simultaneously use multiple price levels, but you can not create new prices by combining them together.
Table of price levels (all prices are listed with VAT)
0,15 €
0,20 €
0,25 €
0,30 €
0,35 €
0,40 €
0,45 €
0,50 €
0,55 €
0,60 €
0,65 €
0,70 €
0,75 €
0,80 €
0,85 €
0,90 €
0,95 €
1,00 €
1,05 €
1,10 €
1,20 €
1,30 €
1,40 €
1,50 €
1,60 €
1,70 €
1,80 €
1,90 €
2,00 €
2,05 €
2,10 €
2,20 €
2,30 €
2,40 €
2,50 €
2,60 €
2,70 €
2,80 €
2,90 €
3,00 €
3,05 €
3,10 €
3,20 €
3,30 €
3,40 €
3,50 €
3,60 €
3,70 €
3,80 €
3,90 €
4,00 €
4,05 €
4,10 €
4,20 €
4,30 €
4,40 €
4,50 €
4,60 €
4,70 €
4,80 €
4,90 €
5,00 €
5,05 €
5,10 €
5,20 €
5,30 €
5,40 €
5,50 €
5,60 €
5,70 €
5,80 €
5,90 €
6,00 €
6,05 €
6,10 €
6,20 €
6,30 €
6,40 €
6,50 €
6,60 €
6,70 €
6,80 €
6,90 €
7,00 €
7,05 €
7,10 €
7,20 €
7,30 €
7,40 €
7,50 €
7,60 €
7,70 €
7,80 €
7,90 €
8,00 €
8,05 €
8,10 €
8,20 €
8,30 €
8,40 €
8,50 €
8,60 €
8,70 €
8,80 €
8,90 €
9,00 €
9,05 €
9,10 €
9,20 €
9,30 €
9,40 €
9,50 €
9,60 €
9,70 €
9,80 €
9,90 €
10,00 €
10,05 €
10,10 €
10,20 €
10,30 €
10,40 €
10,50 €
10,60 €
10,70 €
10,80 €
10,90 €
11,00 €
12,00 €
13,00 €
14,00 €
15,00 €
16,00 €
17,00 €
18,00 €
19,00 €
20,00 €